Faq voltaren emulgel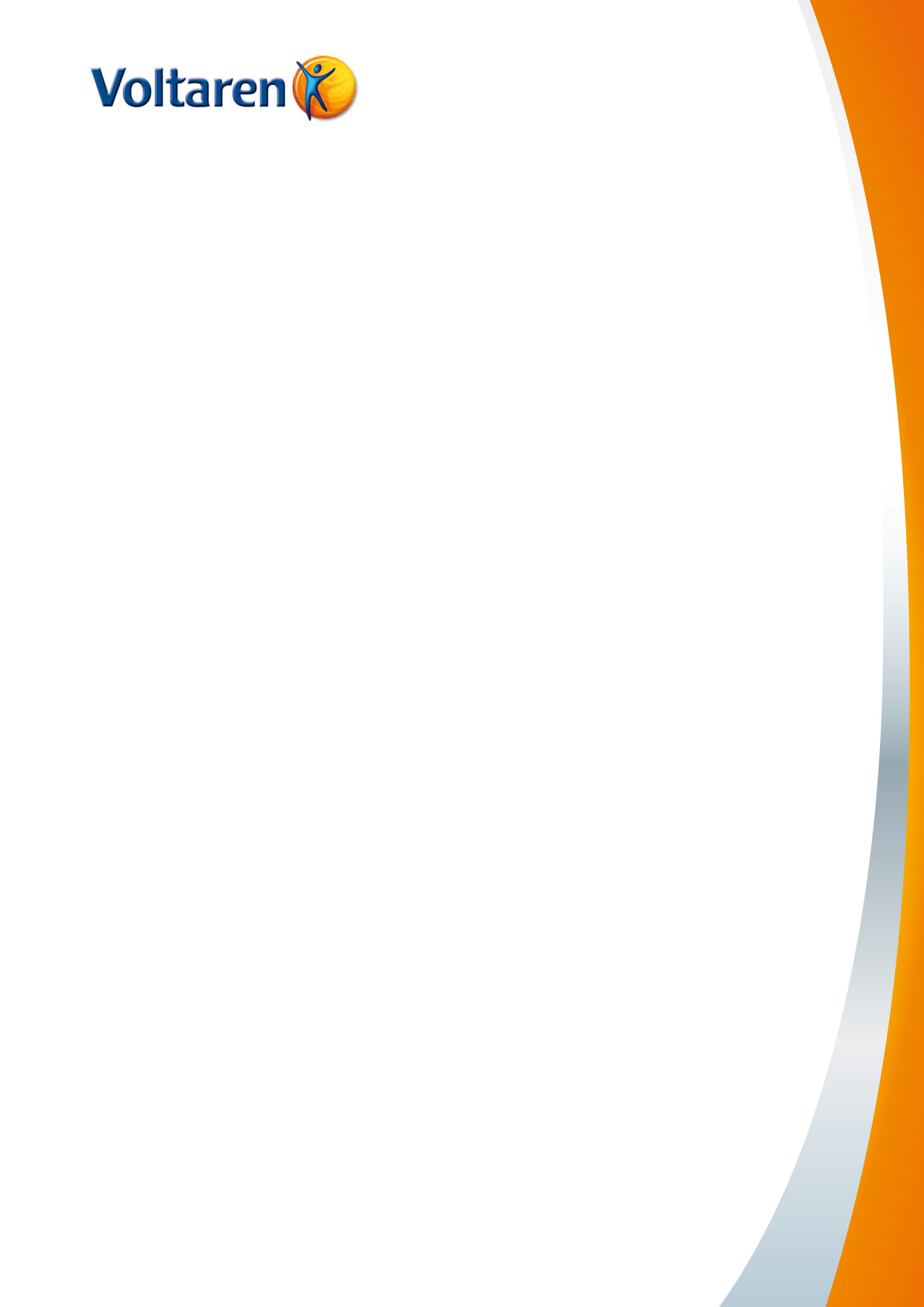 FAQ Voltaren EmulgelTM - Health Professionals

1.
What is the indication for Voltaren Emulgel™?
Voltaren Emulgel™ is indicated for the relief of pain associated with recent
(acute), localized muscle or joint injuries such as sprains, strains or sports
injuries (e.g. sprain of ankle, strain of shoulder or back muscles). This is
typically as an adjunct to other measures such as rest for the relief of
discomfort associated with such injuries.
How should Voltaren Emulgel™ be applied?
Voltaren Emulgel™ should be applied over the affected area 3 or 4 times
daily and rubbed gently into the skin. The amount needed depends on the
size of the painful area: 2 g to 4 g Voltaren Emulgel™ (1 g equals a strip
approx. 2 cm long) is sufficient to treat an area of about 400-800 cm². After
application, the hands should be washed, unless they are the site being
treated.
How long can Voltaren Emulgel™ be used for?
The duration of treatment will depend on the natural course of healing, rest
and also on clinical response. The gel should not be used for more than 7
days for muscle and joint injuries, unless recommended by a doctor.
What is the strength of diclofenac in Voltaren Emulgel™?
Voltaren Emulgel™ contains the active ingredient diclofenac diethylamine in
the strength 11.6 mg/g (1.16% w/w).
What are the nonmedicinal ingredients in Voltaren Emulgel™?
The nonmedicinal ingredients include carbomer, cocoyl caprylocaprate,
diethylamine, isopropyl alcohol, liquid paraffin, macrogol cetostearyl ether,
perfume, propylene glycol, purified water.
Are there any age restrictions to using Voltaren Emulgel™?
Voltaren Emulgel™ is indicated for adults and adolescents 16 years and
older. It is not intended for use in children under 16 years of age.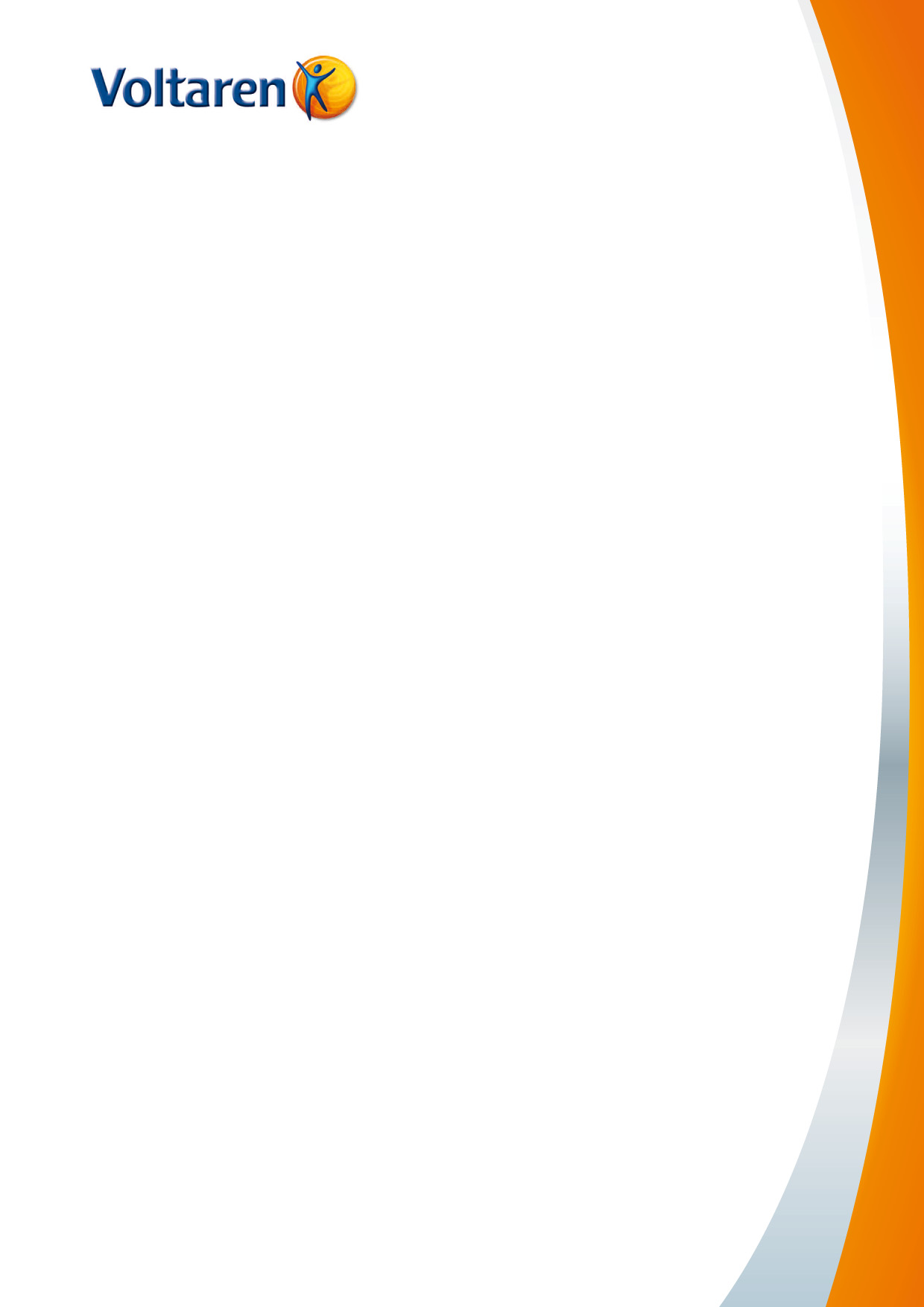 What are the contraindications to the use of Voltaren Emulgel™ ?
Voltaren Emulgel™ must not be used:
• in case of a known hypersensitivity to diclofenac diethylamine (the active
ingredient of Voltaren Emulgel™) or to any of the excipients. • by persons with hypersensitivity to diclofenac, acetylsalicylic acid (ASA) or other nonsteroidal anti-inflammatory drugs (NSAIDs). • by persons who have a history of asthma attacks, urticaria, or acute rhinitis precipitated by acetylsalicylic acid (ASA) or other nonsteroidal anti-inflammatory drugs (NSAIDs). • along with other products containing diclofenac or other oral nonsteroidal anti-inflammatory drugs (NSAIDs). Is there a contraindication to using Voltaren Emulgel™ in patients with
peptic ulcers?
Some possibility of gastro-intestinal bleeding in patients with a significant
history of peptic ulceration has been reported in isolated cases. Voltaren
Emulgel™ should therefore be used with caution by patients under
medication for active peptic ulcers in the stomach or duodenum (e.g. Proton
pump inhibitors or histamine H2 receptor antagonists).
What are the adverse events seen with Voltaren Emulgel™?
Local irritation, erythema, pruritus or dermatitis may occasionally occur with
topical diclofenac diethylamine. Skin photosensitivity, desquamation,
discoloration and bullous or vesicular eruptions have been reported in
isolated cases. Patients should be warned against excessive exposure to
sunlight in order to reduce the incidence of photosensitivity.
Are there any drug interactions with Voltaren Emulgel™? (i.e. Warfarin)
The customary drug-drug interactions between oral NSAIDs and
anticoagulants, oral antidiabetic agents and certain other classes are usually
based on the high protein-binding nature of the NSAID. With significantly
lower amounts of active substance in circulation following topical application
compared with after oral administration, such interactions may be predicted
to be very unlikely with use of Voltaren Emulgel™.

11. What are the limitations on the use of Voltaren Emulgel™ during
pregnancy and breastfeeding ?
Since no experience has been acquired with diclofenac diethylamine gel in
pregnancy and lactation, it is not recommended for use in these
circumstances.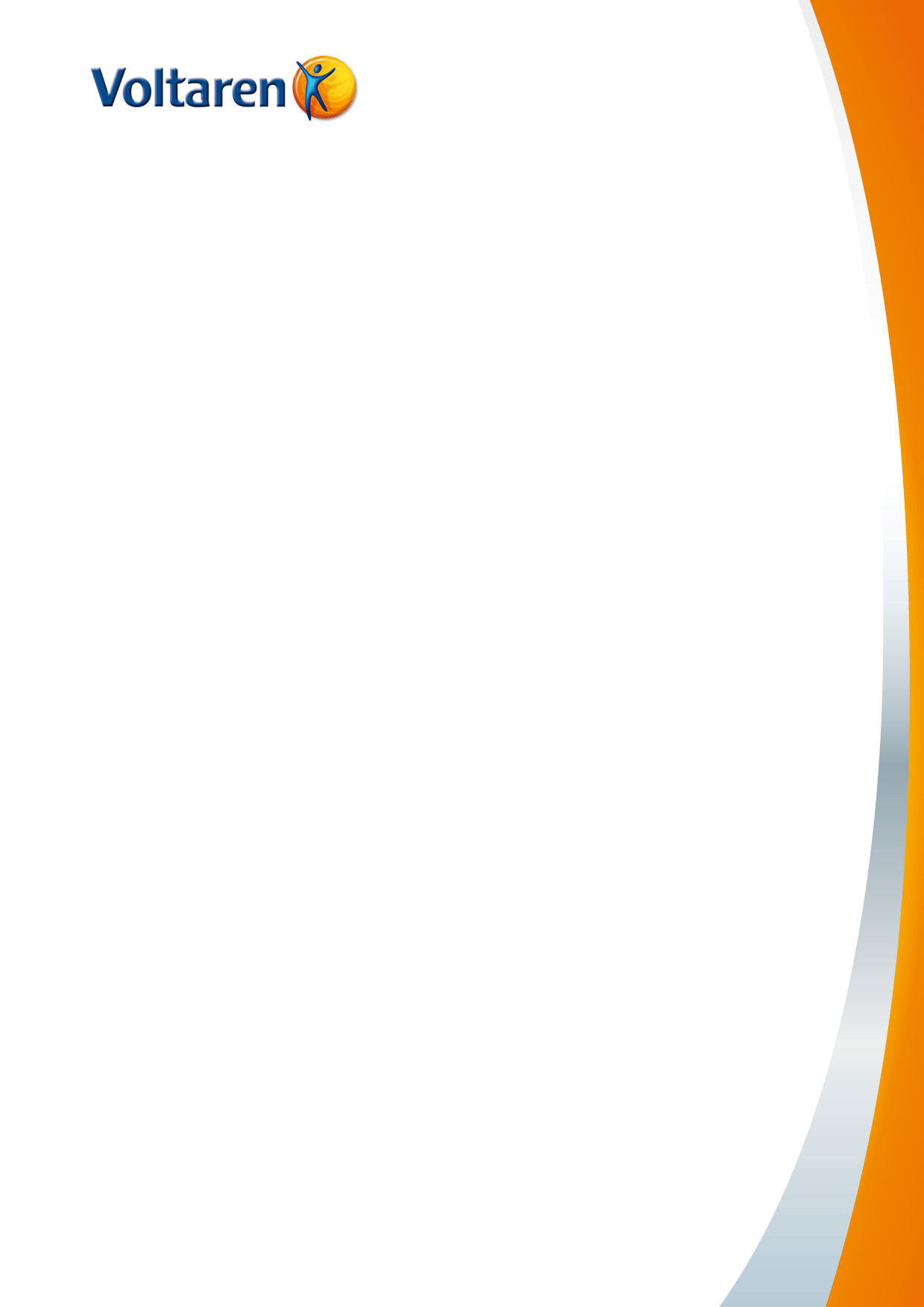 During the first and second trimester of pregnancy, Voltaren Emulgel™ should be used only if a healthcare professional determines that the potential benefit outweighs the risks. Voltaren Emulgel™ should not be applied to large areas of the skin or used for an extended period of time. During the last trimester of pregnancy, the use of diclofenac or other prostaglandin-synthesis inhibitors may result in premature closure of the ductus arteriosus or in uterine inertia. Hence, Voltaren Emulgel™ must not be used during the third trimester of pregnancy. The use of Voltaren Emulgel™ during breastfeeding is unlikely to result in measurable amounts of diclofenac in breast milk. However, the product should not be applied to large areas of the skin or used for longer periods of time during breastfeeding. Could Voltaren Emulgel™ be used under occlusive bandages ?
It is not recommended for Voltaren Emulgel™ to be used with occlusion or
heat.
The use of occlusive bandages can lead to a threefold increase in the amount of diclofenac absorbed from Voltaren Emulgel™ over a 10-hour period. This rise in absorption is likely to increase the analgesic and anti-inflammatory effects of the medication. Independent investigators have reported very good effectiveness and tolerance with the use of Voltaren Emulgel™ under occlusive bandages. However, the possibility of systemic adverse events cannot be excluded if Voltaren Emulgel™ is used on large areas of skin over a prolonged period. Is it permissible for a patient to use Voltaren Emulgel™ while taking
other nonsteroidal anti-inflammatory drugs (NSAIDs) orally ?
It is not recommend taking diclofenac or other NSAIDs orally while using
Voltaren Emulgel™. If using a prescription NSAID, a patient should continue
to use it at his or her prescribed dose and should not begin to use Voltaren
Emulgel™ in addition. Those who are self-treating with an orally
administered nonprescription NSAID may either continue taking that
medication or discontinue it and begin using Voltaren Emulgel™.
The diclofenac in Voltaren Emulgel™ is absorbed through the skin. If topically applied diclofenac is used along with diclofenac tablets, the person will be exposed to more diclofenac than recommended for nonprescription use. Approximately 6% of the diclofenac in a topically applied dose of Voltaren Emulgel™ is absorbed through intact skin. A greater amount will be absorbed if the skin is injured or diseased.
14. What are the advantages of the Voltaren Emulgel™ unique
formulation?
Voltaren Emulgel™ consists of lipid components emulsified in a water-
alcohol-glycol gel structure. The advantages of the formulation are its
optimal release of the therapeutic active substance (diclofenac), optimal
penetration through the skin and cooling effect as the alcohol evaporates.
What is the absorption rate of Voltaren Emulgel™?
The quantity of diclofenac absorbed systemically from Voltaren Emulgel™ is
proportional to the size of the treated area, and depends on both the total
dose applied and the degree of skin hydration. Absorption amounts to
about 6% of the applied dose of diclofenac after topical application of 2.5 g
Voltaren Emulgel™ on 500 cm² skin, determined by the total renal
elimination, compared with Voltaren tablets. A 10-hour occlusion leads to a
3-fold increase in the amount of diclofenac absorbed.
Does skin penetration determine the clinical usefulness of a topical
nonsteroidal anti-inflammatory drug (NSAID) ?
Only in part. In addition to skin penetration, the efficacy and safety of an
NSAID are important in determining its clinical usefulness for topical
application. Diclofenac is a potent inhibitor of prostaglandin release. For
example, in vitro, ketoprofen was found to move through human skin more
readily than diclofenac and several other NSAIDs. However, among
NSAIDs, ketoprofen is the main drug involved in photoallergic contact
dermatitis. Topically applied ketoprofen gel can cause severe local
inflammation and lesions if the skin surface is exposed to sunlight.
Ketoprofen is not available topically in Canada.
Does Voltaren Emulgel™ cause local bleeding ?
Local bleeding is not known to be a side effect of Voltaren Emulgel™.
Nonsteroidal anti-inflammatory drugs (NSAIDs), including diclofenac, can
cause bleeding through inhibition of cyclooxygenase activity and platelet
aggregation. However, compared with certain other NSAIDs, diclofenac has
relatively little effect on platelet aggregation.
How soon can someone expect to feel relief after applying Voltaren?
Pain is a physical and emotional experience and is subjective. In a clinical
study of 80 patients with acutely sprained ankles noted in the Product
Monograph, there was a significant difference for articular pain at rest and
on movement and joint swelling after 3 days of using Voltaren Emulgel™
compared to the placebo group (p<0.001).
How long does the anti-inflammatory effect last after one application of
Voltaren Emulgel™?
It has been reported that topically applied diclofenac diethylamine 1.16%
actively inhibited methyl nicotinate induced skin inflammation, which is
known to involve prostaglandins and free arachidonic acid, for at least 48
hours after a single application (Duteil et al 1990).
How long after applying Voltaren Emulgel™ should one wait before
bathing or swimming?
This has not been formally studied. Voltaren Emulgel™ is quickly absorbed
through the skin, and there is a prolonged absorption into the lower tissues
and blood stream from the application site. To help prevent leaching out any
diclofenac that is located in the upper most layers of the skin, it is generally
recommended in clinical practice to wait 2 hours after application to take a
shower or bath; and therefore swimming as well.
What package sizes does Voltaren Emulgel™ come in?
Voltaren Emulgel™ comes in commercial sizes of 50 g and 100 g tubes.
2008 Novartis Consumer Health Canada, Inc.
Source: http://www.uslsport.co.nz/admin/media/ProductFiles/9201/Voltaren_Emulgel_FAQ_Eng.pdf
CASA ESPÍRITA Ocurrió en la Casa Espírita A modo de prefacio.3 Templos .4 Aconsejando al médium.7 01 - .Infiltración programada .10 02 - .Evaluando la amenaza.13 03 - .Orientando los escándalos .16 04 - .Iniciando el ataque .21 05 - .Estimulando la vanidad.28 06 - .Intervención Superior .32
Fundación Española para el Fomento de la Investigación de la Esclerosis Lateral Amiotrófica Boletín Científico 45 El boletín de FUNDELA publica resúmenes y artículos científicos referentes a los últimos avances de la investigación, tratamientos sintomáticos y cuidados al paciente con ELA. Se envía periódicamente a más de 400 suscriptores, entre los que se encuentran profesionales de la salud, pacientes y familiares de España y Latinoamérica. Todos los boletines pueden descargarse en nuestra web www.fundela.es FUNDELA no asume responsabilidades por la información que contiene este boletín.