Psychiatrist beats suit blaming him for patient's killing mom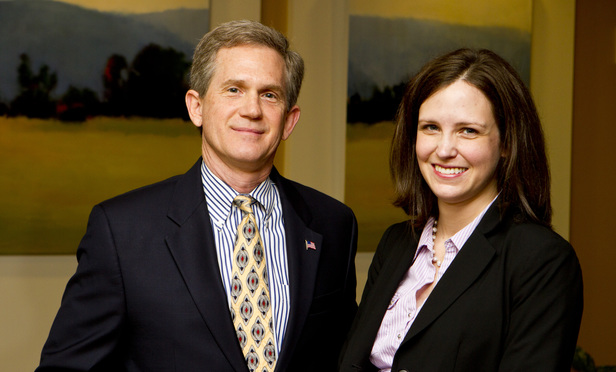 Psychiatrist Beats Suit Blaming Him for Patient's Killing Mom
Milton Satcher and Laura Strong defended a psychiatrist accused of breaching the standard of care bycutting a patient's medications.
John Disney/Daily Report After 10 years and two appeals, the guardians of a mental y disabled man who kil ed his mother weeks after hisdoctor took him off anti-psychotic medications have walked away with nothing from their medical malpractice suit.
A DeKalb County jury decided in favor of the man's psychiatrist on Feb. 11, fol owing a seven-day trial and less thantwo hours of deliberation. The panel handed down the defense verdict just before the courthouse closed inpreparation for an ice storm that would cripple the Atlanta metro area.
"Going into the case, we realized that it was going to be a tough case to win," said Wil iam "Gere" Quinn III, whorepresented the guardians of 50-year-old Victor Bruscato. In a suit filed in 2004, Bruscato's father and sister claimedDr. Derek Johnson O'Brien breached the standard of care by negligently taking Bruscato off two medications thatcontrol ed his psychosis.
"We knew the case would be difficult because we were asking a jury to pay a large amount of money to someone whohad kil ed his mother," Quinn said. "And it gets worse." Besides being treated for a variety of disorders including schizophrenia, mild mental retardation and intermittentexplosive disorder, Bruscato is a diagnosed pedophile. Bruscato has been committed to Central State Prison anddeemed incompetent to stand trial in the criminal case over the death of his mother.
O'Brien, who had been treating Bruscato since 2001, took him off Zyprexa and Luvox in May 2002. In August of thatyear, Bruscato bludgeoned his mother with a battery charger and stabbed her multiple times.
The doctor's defense counsel, Milton "Burt" Satcher III and his associate, Laura Strong, argued in filings and at trialthat O'Brien provided appropriate care. They said he stopped Bruscato's dosages of Zyprexa and Luvox at therequest of his mother, who expressed concerns about side effects including fever and high blood pressure. Theyfurther argued that Bruscato, who lived with his parents, was aware of his violent actions against his mother when hekil ed her.
"He knew exactly what had happened," Satcher said. "He wasn't psychotic; he just got very angry and extremelyupset when she withdrew a couple of privileges." Satcher and Strong are with Owen, Gleaton, Egan, Jones &Sweeney.
Representing Bruscato's guardians, Quinn and co-counsel Jerry McCumber argued in response that O'Brien couldhave quickly ruled out a life-threatening reaction and restarted the medications or hospitalized Bruscato if he wastruly worried about complications. They also said O'Brien did not increase Bruscato's lithium dosage to compensatefor the removal of the other anti-psychotic drugs. Filings in the case stated that Bruscato's mother was deeplyreligious and tended to blame his behavior on the devil.
The Bruscato family's original suit, filed in Gwinnett County, also included wrongful death and loss of consortiumclaims against O'Brien as wel as his employers, Northside Psychiatric Center and the Gwinnett-Rockdale-NewtonCommunity Service Board.
The doctor's defense attorneys obtained summary judgment on the wrongful death and loss of consortium claims in2007 and won on appeal in 2008. The state Supreme Court refused to hear the case, which was then transferred toDeKalb County Superior Court.
The defense then asked the court for summary judgment on the malpractice claim, arguing essential y that because itwas Bruscato's guardians suing the doctor, Bruscato himself would benefit from a victory, and criminals cannotbenefit from a criminal act. DeKalb Superior Court Chief Judge Gregory Adams granted summary judgment in 2009but was reversed on appeal in a 4-3 decision by the Court of Appeals in 2010. The high court unanimously affirmedthe lower appel ate court ruling in 2011, stating that Bruscato had not been convicted of a crime, so he couldn't bebarred from suing his doctor for malpractice.
In a pretrial order filed earlier this month, plaintiffs Vito Bruscato, his father, and Daryl Pringle, his sister and legalguardian, asked for unspecified damages for Victor Bruscato's physical and mental pain and suffering. They alsosought nearly $150,000 in special damages to reimburse him for attorney fees and lost Social Security Disabilityincome, which was cut off when he became an inmate. Plaintiffs earlier had included another claim for nearly $1.4mil ion for past and future cost of care at Central State Hospital, but the doctor obtained a directed verdict, arguingthat the plaintiffs did not provide sufficient proof of the expenses.
Satcher said the key witnesses for the doctor at trial were two Gwinnett County police officers. One of the officers,who found Victor Bruscato hiding in the woods behind his home after the murder, testified that the first words out ofBruscato's mouth were to ask about his mother's condition.
"The first thing Victor Bruscato said to him was, 'Is my mom going to make it,' or something to that effect," Satchersaid. "When the officer told him no, he responded, saying, 'I know I kil ed her.'" The second officer sat with Victor Bruscato in an emergency room while doctors stitched up cuts on his hand. Theofficer testified that Bruscato "said something to the effect of he was going to take responsibility for it and asked tospeak to a lawyer," Satcher said. "Clearly, he had presence of mind." Satcher said as a result of the doctor's steadfast desire to have his day in court, the defense never made nor accepted any offer to settle. Quinn confirmed he inquired about settlement negotiations early on but was immediatelytold no.
Lawyers for both parties said they were able to build a relationship of trust in the 10 years the case crept along,making discovery and other pretrial matters easy.
Satcher said the biggest dust-up occurred during trial over how much the jury should know about Victor Bruscato'scriminal status, which led the defense to ask for a mistrial just two days into testimony from plaintiffs' witnesses.
"They cal ed as an expert witness the psychiatrist who did the evaluation as part of Victor Bruscato's criminal chargesabout whether he was competent to stand trial," Satcher said. "At the end of his testimony, he made a comment to theeffect of Bruscato not being guilty of the charge of kil ing his mother. It's not true, because no determination has beenmade. Maybe that was his opinion, but he shouldn't have said that." Adams declined the defense's motion for mistrial and instead decided to instruct the jury not to draw any inferencesbased on Bruscato's criminal status.
"After a lot of back and forth, the judge agreed to al ow a stipulation—over our objection—that Victor Bruscato hadbeen civil y committed to the state hospital," Satcher said.
The stipulation also stated that "there has been no decision about his criminal status, and furthermore the issue is notof any relevance," Satcher added.
Quinn said he didn't think the issue was that important.
"I don't know why that was a pivotal decision one way or the other," he said. "I know the defense was awful ypreoccupied with keeping that out. They became quite animated." Quinn also said he had no problem with the judge's decision to exclude crime scene photos, which the defense hadargued in motions were irrelevant and inflammatory, and documents related to Bruscato's competency to stand trial.
"Al the jury needed to know was that he had not been convicted, and the judge agreed with that," Quinn said.
"Otherwise, it wouldn't have made much sense as to why he was not there." Quinn said he and his clients have not decided whether to seek an appeal, though he believes there are grounds forone.
"The judge refused to charge the jury in a way that defined reasonable medical certainty and reasonable medicalprobability [in jury charges]," he said. "Reasonable medical certainty and reasonable medical probability have theappearance of increasing the plaintiff's burden beyond a preponderance of the evidence." Quinn said he proposed definitions that have appeared in other cases that would have given the terms more clarityand sounded better for the plaintiffs.
"The judge refused because he did not want to stray from the charges. That's a common thing with judges; they feelsafe with pattern charges," he said.
Quinn also said, "Pattern charges [for medical malpractice cases] do not address the situation of an adult childbecoming psychotic and kil ing his mother." He said he found three other cases "right on point" with the facts of his case that al owed jury charges pertaining tomalpractice and causation that stated it was not necessary for the defense to anticipate exact harms in order to befound liable. One of those was the 1988 case Swofford v. Cooper, 258 Ga. 143, in which the state Supreme Courtruled for the plaintiff in a medical malpractice case brought by the mother of a disabled man who kil ed his father.
"I feel there are things to appeal that maybe need to be appealed, however I'm not sure the consequences of a newtrial would be any better," Quinn said. "We'd stil be pounding our heads against Stone Mountain with the unfavorablefacts regarding our client." The case is Pringle v. O'Brien, No. 08-CV-1196-5.

Source: http://www.og-law.com/files/Satcher%20&%20Strong%20Win%20Decade-Long%20Case.pdf
Contents lists available at Medical Hypotheses The Meniere attack: An ischemia/reperfusion disorder of inner earsensory tissues q,qq C.A. Foster R.E. Breeze a University of Colorado School of Medicine, Dept. of Otolaryngology, 12631 E. 17th Ave., B-205, Aurora, CO 80045, United Statesb University of Colorado School of Medicine, Dept. of Neurosurgery, United States We believe Meniere attacks arise as a chance association of endolymphatic hydrops and vascular risk fac-
Medical data is for informational purposes only. You should always consult your family physician, or one of our referral physicians prior to treatment. this theory was incorrect, the treatments developed from it have The Journal 2. To contract with professional scientific and medical organi- Academy of zations for research and develop mental studies related to the cureand/or remission of Rheumatoid Diseases;